I started the keto diet about a week ago. I know, I know, this sounds crazy coming from an Italian who grew up eating pasta basically everyday. So obviously, after a week of restricting pasta from my meals, I wanted an alternative to trick my mind into thinking I was eating pasta to be satisfied. I was recommended to try palmini by a friend on Facebook and that is how this keto carbonara using palmini linguine came about. I followed the same instructions as I would for regular carbonara, but switched the pasta for palmini and guanciale for bacon.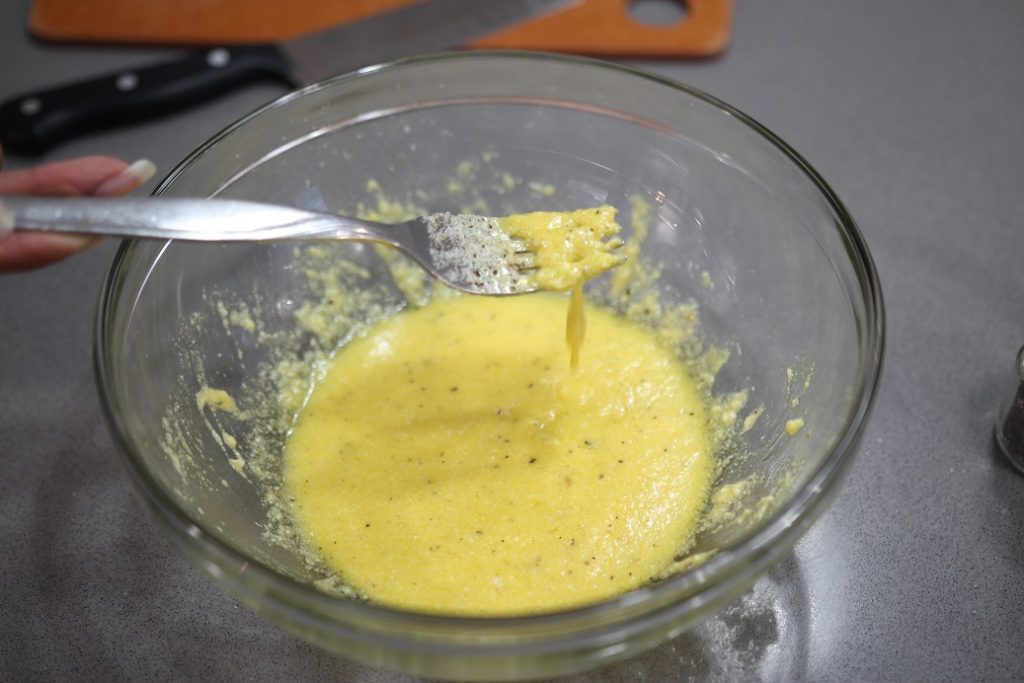 So, after eating pasta my whole life, how can this be a problem now? Well to be honest, now that I am in my thirties, I can't get away with eating whatever I want, unfortunately. After the health enlightenment of the year 2020, I became hyper aware of what I was feeding my body and started researching how to better fuel my body for longevity. This meant cutting sugar and building an exercise routine. Both were easy enough, as I like to get in daily movement and I am not a fan of sweeteners and sweets in general. But when I realized that carbohydrates get broken down in your body in the form of glucose, I knew I had to pay attention to what I was eating. Pasta, rice and bread were in every meal I had each day without even realizing.
I wanted to give keto a try to see how my body would feel using fat for energy instead of carbs for energy. It was not easy those first few days. The keto flu is a real thing! I felt tired and sluggish and as if my brain was functioning somewhere outside of my head. To help with the sluggishness, I added MCTs into my coffee each morning and now a week later, I feel great and energized while I workout while fasted in the morning before I make my low carb lunch. Also, no bloating after eating is a plus! I plan on following a keto lifestyle for a couple of weeks and then slowly incorporating pasta and bread sporadically through my week of meals. I do love how I am feeling eating way more fresh veggies and greens, so I feel like I will need to stick to that moving forward. And I will definitely be making this keto carbonara using palmini linguine many more times in the future!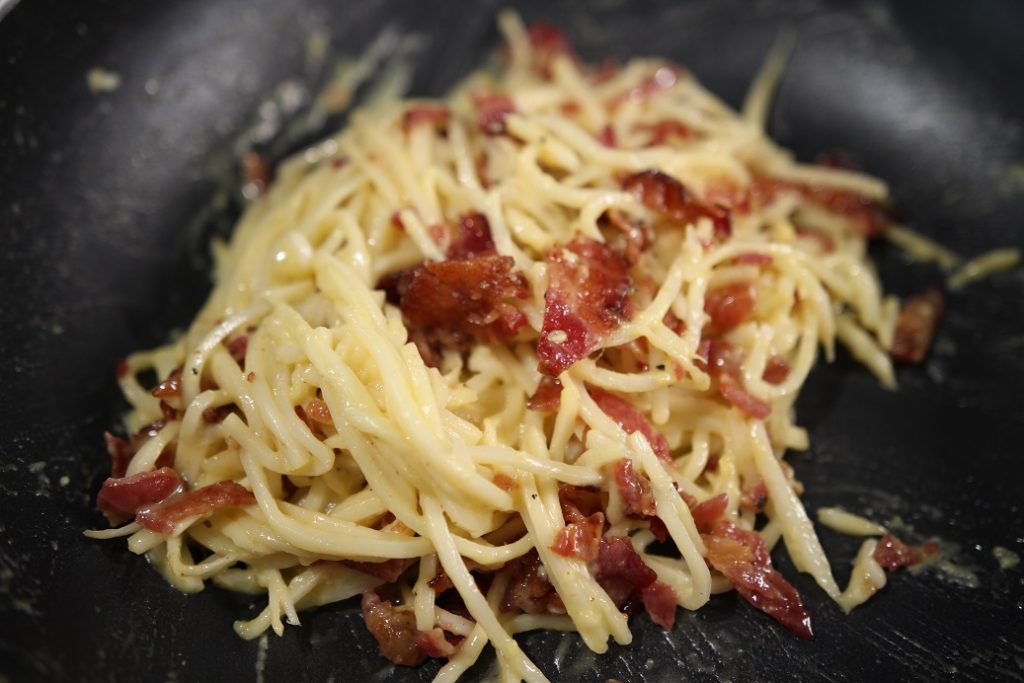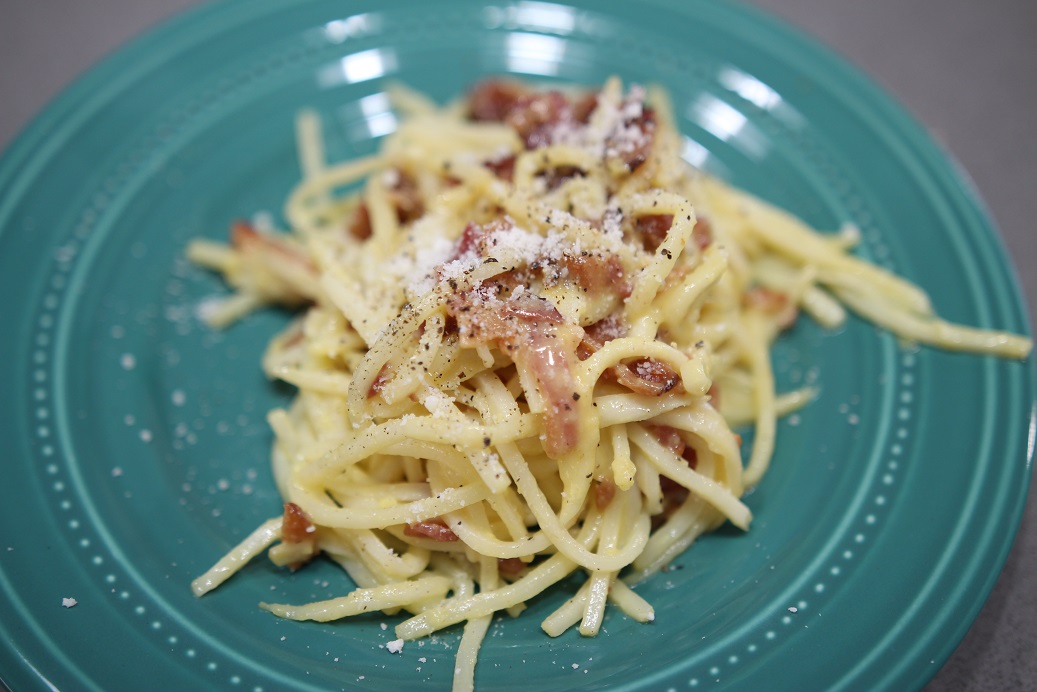 Keto Carbonara using Palmini Linguine
Easy and delicious keto carbonara using the same ingredients for the sauce and swapping the pasta for palmini.
Ingredients
12

oz.

Palmini Linguine

4

Bacon Strips

2

Eggs

1 whole egg and 1 egg yolk

Black Pepper

3

Tbsp.

Pecorino Cheese

grated
Instructions
Bring a pot of salted water to a boil. This will be used to cook the palmini later.

While the bacon is frying, rinse the palmini in a colander. Let it drain and set aside.

In a large bowl, scramble the whole egg and one egg yolk with the pecorino cheese and a sprinkle of black pepper. You want the consistency to not be too wet nor too thick. Set aside.

Add the palmini into the pot of boiling water and cook for about six minutes.

In the meantime, remove the bacon from the air fryer and cut into small pieces. Add the bacon pieces into a separate frying pan along with about half of the bacon fat drippings from the air fryer tray. Fry for about a minute over medium heat and then remove the bacon from the pan, trying to leave as much bacon fat in the pan as possible.

Scoop the palmini directly into the frying pan using a hand strainer. Sauté the palmini over medium heat for about a minute and then turn of the heat. Continue to mix the palmini around to allow it to cool a bit. you do not want the palmini to be too hot before adding the cheese and egg mixture or else you will get scrambled eggs.

After mixing the palmini around for about a minute, allowing it to cool a bit, pour in the egg and cheese mixture. Mix until the palmini is fully combined with the sauce and then add in the bacon bits. Mix until fully incorporated and then serve with a sprinkle of black pepper and pecorino cheese. Enjoy!
Video