I have always enjoyed trying new recipes and the whole process of combining different ingredients to come up with a delicious meal. But, to be honest, prior to the lockdown, I had fallen into a rut with coming up with recipe ideas. I was getting tired of making and eating the same recipes and I didn't feel like getting creative with trying anything new. It was a lot easier to just go out to a restaurant or get some take out, than trying to figure out what I wanted to make at home.
That all changed once the lockdown began. Having to limit the amount of times to go grocery shopping proved to be difficult. This meant I needed to plan what ingredients I could use to make multiple recipes throughout the week so that I wouldn't need to visit the grocery store as often. Something I had not thought about in awhile. I went from not wanting to cook that often, to having to cook multiple times a day, every day! The planning part didn't always work out the way I thought it would, so I would end up with an excess of vegetables that unfortunately, don't last as long as pasta and rice. This meant I had to get creative. This allowed me to start experimenting and come up with different recipe ideas. This sausage and zucchini rigatoni recipe is one of them!
Right before the lockdown started, I had really been enjoying zucchini in more of my dishes. So now zucchini are a must at every grocery trip I make. One week, I had some sausage and zucchini that I needed to use up so I thought I'd throw them together with some rigatoni and my favorite spices and hope for the best! It worked! Some of the ingredients I threw in I had never used in this type of dish before, but I feel like it combined with the other flavors so well, making this sausage and zucchini rigatoni dish so delicious. I thought it was good enough to share and make a print recipe for you to try at home. This recipe called for Rigatoni pasta, but feel free to use whatever pasta you would prefer. Spaghetti or even Linguine could also work with this recipe. As for the sausage, sweet, mild or hot can be used, depends on how you like it! Follow along with the print recipe listed below or watch as I prepare this recipe step by step in the following video.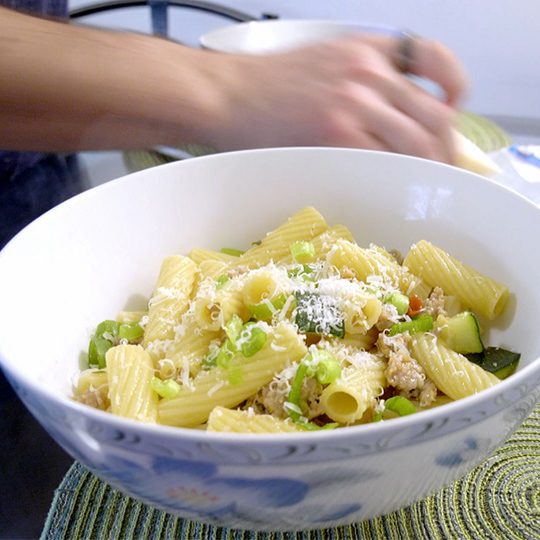 Sausage and Zucchini Rigatoni Recipe
Delicious sausage and zucchini combination that goes perfect with whichever type of pasta you like!
Ingredients
1/2

lb.

Rigatoni

2

Italian Sausage

mild or spicy, casing removed

1

Zucchini

cubed

4

Garlic Cloves

thinly sliced

1

Scallion Stalk

thinly sliced, separating greens from whites

4

sprigs

Thyme

stems removed

1

Hot Pepper

sliced, optional (dried chili pepper)

Pecorino Cheese

or Parmigiano cheese

1/4

tsp.

Better Than Bouillon Beef Base

optional

Sea Salt

to taste

Black Pepper

to taste

1

pinch

Garlic Powder

1

pinch

Umami Seasoning Blend Powder

optional

Olive Oil

extra virgin
Instructions
Begin by bringing a large pot of salted water to a boil. This will be used to cook the pasta.

Meanwhile, in a mixing bowl, mix the zucchini with a drizzle of olive oil and season with salt, black pepper, garlic powder and umami blend powder. Set aside.

Add a small drizzle of olive oil to a frying pan. Add the sausage and cook over medium heat, breaking into small pieces while cooking. After about two minutes, add in the garlic and scallions whites. Mix together allowing to cook for about a minute.

Next, add in the zucchini and cook on medium to low heat for about three minutes, making sure to mix to cook evenly.

Meanwhile, add the rigatoni into the boiling pot of water and cook for one to two minutes less than the package instructions.

Add the better than bouillon beef base into the sausage pan and about half a ladleful of the pasta water. Mix until thoroughly combined. Stir in the hot chili pepper and continue to cook over low heat until the rigatoni is ready.

Once the rigatoni is ready, strain it and add it back into the pot and then pour the sausage pan contents into the pot. Grate some fresh pecorino or parmigiano cheese over the pasta and mix together.

Divide the rigatoni with sausage into bowls or dishes and top off with some scallion greens and another sprinkle of pecorino or parmigiano cheese.
Video