Give me a good bowl of soup and I am a happy man. Before I met Diana, I had never had Portuguese food. I remember one of the first BBQ's at her parents house, at which they made the Portuguese churrasco style chicken, was when I tried Caldo Verde for the first time. I couldn't wait for the next BBQ, the food was so delicious! Caldo verde is a traditional Portuguese soup made with potatoes and thinly sliced collard greens or kale and most importantly Portuguese sausage or chouriço.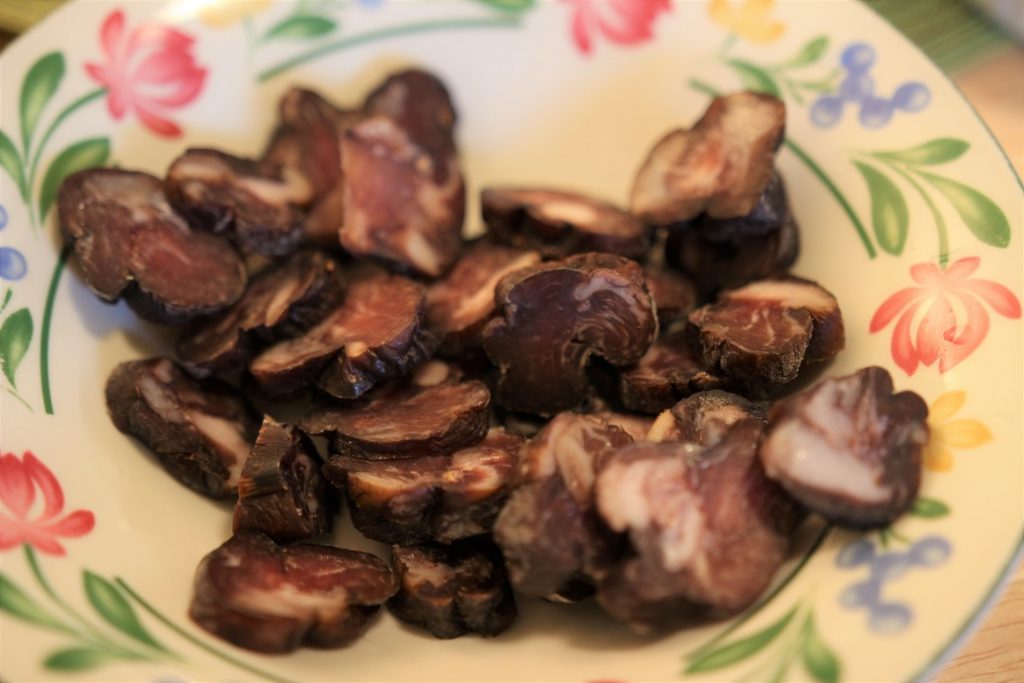 The chouriço is a smoked sausage that lends a delicious smoky taste to the soup. Potatoes and kale alone wouldn't bring much flavor to the soup so adding the chouriço is what makes it so flavorful. Diana's father makes homemade chouriço using one of his Portuguese style brick BBQ's and gives us some to cook with so I was inspired to make my own version of caldo verde and call it a Portuguese style soup. Usually you would blend the potatoes to make the soup a thicker, more creamier consistency, but I wanted a more broth type soup and added elbow pasta instead.
I had some collard greens and swiss chard in the fridge and thought it would work just as well as kale. I threw in some carrots and stew beef to add more layers of flavor to the dish. Even with adding in these extra ingredients, the star of the dish is the chouriço. I like to fry the chouriço in olive oil first to release some of the fat to add more flavor to the soup. Adding it later to finish cooking in the soup makes it so tender and soft, you hope to have a few pieces scooped into each bowl!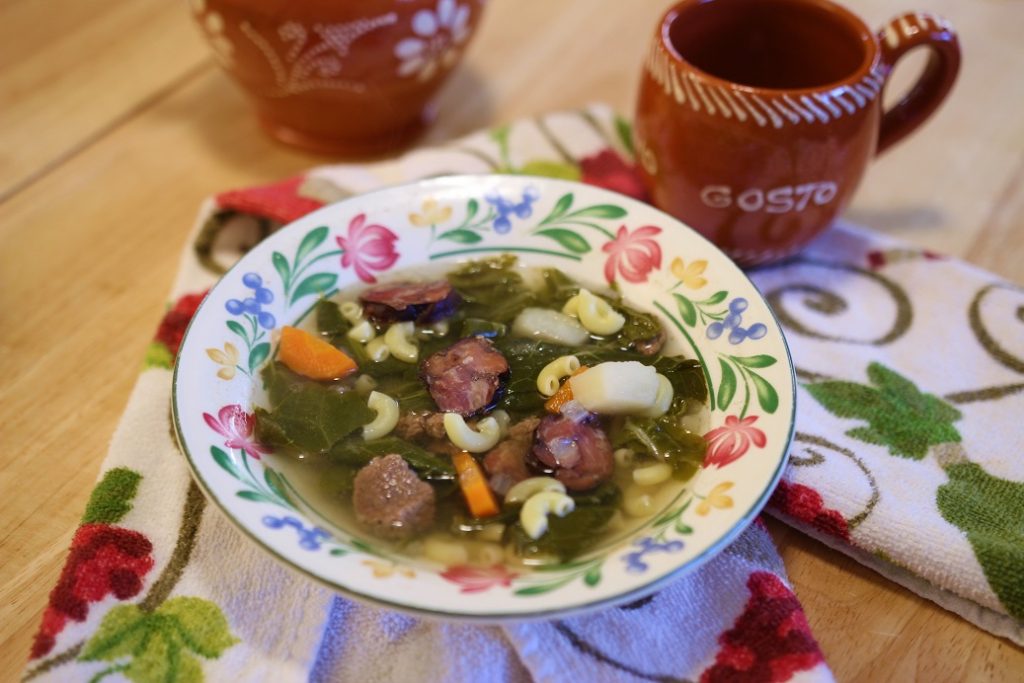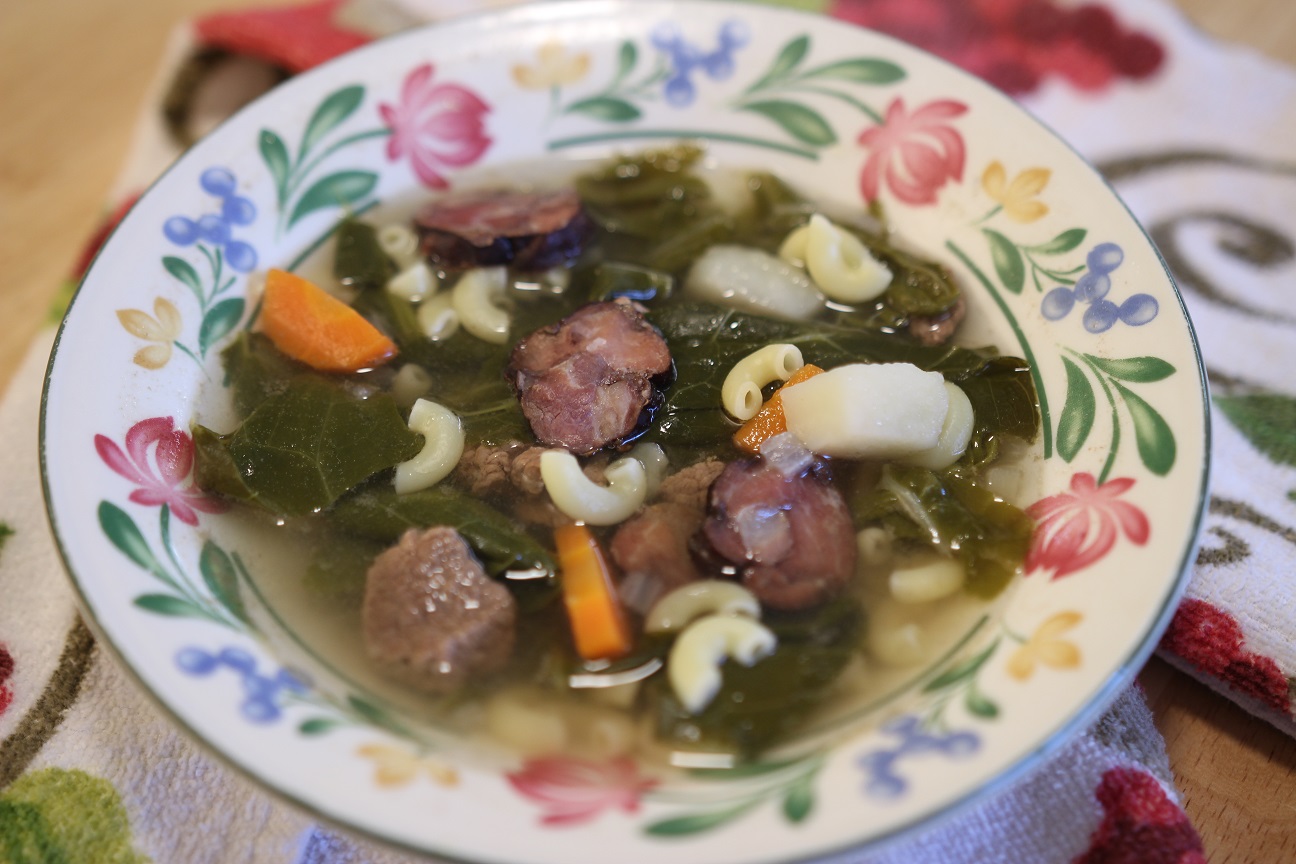 Portuguese Style Soup
This Portuguese style soup is inspired by the traditional caldo verde soup found all over Portugal. The chouriço is what gives it all the flavor so don't skip out on that main ingredient!
Ingredients
10

oz.

Chouriço (Portuguese sausage)

sliced

1

bunch

Collard Greens

stems removed and thinly sliced

1

bunch

Swiss Chard

stems removed and thinly sliced

1

Carrot

sliced

1/2

Sweet Onion

chopped

1

Russet Potato

diced

1

lb.

Stew Beef

cut into bite size pieces

10

cups

Chicken or Beef Stock

Olive Oil

Extra Virgin

8

oz.

Elbow Pasta
Instructions
Begin by adding a small drizzle of olive oil into a deep pot. Heat over medium/high heat and then add in the chouriço. Fry for about three minutes and then scoop out the chouriço, and place into a bowl and set aside.

In the same pot, add in the stew beef and use the oil and fat released from the chouriço to cook the beef. Once mostly browned, add in the onion and sauté for about two minutes.

Pour in the chicken stock and cook over medium/high heat until slightly at a boil. Add in the potatoes and the chouriço and continue to cook over medim/high heat. If it starts to boil too much, lower the heat to medium to keep it at a simmer.

After about forty minutes, add in the carrots , collard greens and the swiss chard. If not enough liquid in the soup, add in a cup or two of boiling water. Taste the soup and season with salt if needed. Simmer for another thirty to forty minutes.

Twenty minutes before the soup is done cooking, bring a pot of salted water to a boil and cook the elbow pasta as per the package instructions.

Add as much of the elbow pasta as you prefer into a dish and top with ladleful's of the soup and enjoy!
Video