When I think of Sunday, the first thing that comes to mind is Sunday Sauce! This is why I want to share my Sunday sauce recipe, cooked with pork ribs and Italian sausage. Don't think you have to stop at the ribs and sausage, you can also make meatballs! This recipe is basically a traditional experience, and brings family together.
Usually I like to stick with sausage and pork ribs when I make a Sunday Sauce, I've found that it gives the sauce a really good flavor every single time. When I have enough time, I'll also make homemade meatballs to throw into the sauce. When my dad makes Sunday Sauce, he likes to make braciole made with beef, and sometimes even a braciole made with pork skin.
To be honest, I like to do a lot of experiments. Some recipes, I'll stick to the script, but with others I like to try different things. For example, with this recipe I like to add a beef stock/concentrate, more specifically I'm using Better than Bouillon Beef Base. Another thing I like to do is to add chunks of pecorino/parmigiano cheese directly into the sauce. All I am trying to say is that cooking is all about experimenting, one way may work for you, while another may not.
I've come to learn that Sunday sauce can be very personal. That is why you will find so many different recipes for this sauce! It really comes down to preference. If you like beef, use beef. Add braciole or meatballs. If you like a mix, add both pork and beef. Simmer for two hours or simmer for hours. Add carrots for sweetness if that is your thing. Add white wine instead of red wine or no wine at all. You can start with one recipe and switch things out until you find your perfect Sunday Sauce recipe that works for you!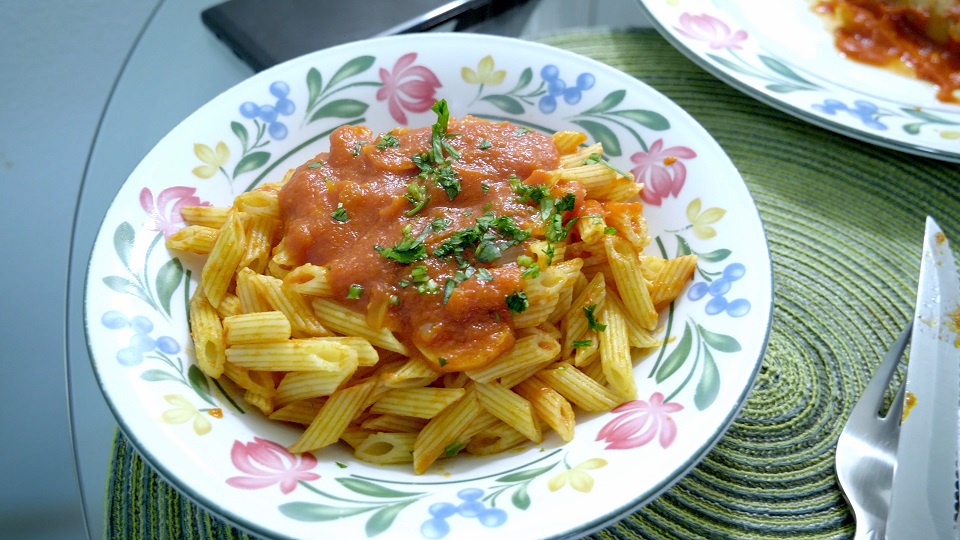 Sunday Sauce Recipe
Ingredients
32

oz.

Tomato Sauce, I recommend Mutti or La Fede

Passata, finely sieved tomatoes

5

Pork Ribs

seasoned with salt and black pepper

16

oz.

Cheese and Basil Italian Sausage

or your preferred sausage, sweet or spicy

4

Garlic Cloves

thinly sliced

1/4

Sweet Onion

diced

1

Tbsp.

Tomato Paste

2

oz.

Parmigiano Reggiano or Pecorino Cheese

cubed

1/4

cup

Dry Red Wine, like a Cabernet Sauvignon

optional

1/2

tsp.

Better than Bouillon Beef Base

optional

1/2

lb.

Mini Penne

or your preferred pasta

Basil or Parsley

for topping, optional

Olive Oil

extra virgin

Salt

to taste

Black Pepper

to taste
Instructions
Begin by adding a drizzle of olive oil into a deep pot and then adding the pork ribs and sausage. Cook over medium heat for about five minutes, or until slightly browned.

Once the pork is slightly browned, add in the garlic and onion and allow to cook for about two minutes.

Next, pour in the wine. Stir to combine the pork meat with the wine and cook for about two minutes to allow the alcohol to evaporate. The wine flavor will combine with the garlic and onion and absorb into the meat.

Follow this by adding in the tomato paste. Stir until the tomato paste is thoroughly combined.

Follow this by adding in the tomato sauce. Mix to combine and then add in the cubes of parmigiano or pecorino cheese. The cheese will add a delicious flavor to the sauce!

Bring the sauce to a simmer and then reduce the flame/heat to low to continue to simmer for at least two hours. The longer, the better and more flavorful the sauce will be!

After the sauce has cooked for about an hour and forty minutes, bring a large pot of salted water to a boil. Once boiling, add in the pasta and cook until al dente, or for one to two minutes less than per the package instructions.

Strain the pasta and put back into the large pot it was boiled in. Scoop two ladles of the sauce into the pasta pan. Mix to thoroughly combine. Divide the pasta into bowls or dishes and add another scoop of sauce on top of each dish. Sprinkle with some freshly grated pecorino or parmigiano cheese and enjoy with some of the pork sausage or pork ribs on the side.
Video
Before you go, I wanted to mention that I have another recipe using a passata. It's my recipe for a Ribeye Steak Pizzaiola, you wont want to miss it!