Imagine biting into a tender juicy steak that was cooked in oregano infused tomato sauce, I'm drooling just writing this! This Ribeye Steak Pizzaiola recipe is so tender and juicy because of the cooking technique. You simply submerge the steak in fresh tomato sauce and cook. You don't need homemade tomato sauce for this, all you need is a good tomato passata, like a tomato purée.
I can recommend two brands that I've personally used, and really loved. One is Mutti, and the other is La Fede. You should be able to find these in stores, if not you may be able to get them shipped from Amazon. In addition to the tomato passata, I also like to add in fresh plum tomatoes for an extra fresh flavor to this Ribeye Steak Pizzaiola Recipe.
I thought I'd mention that in the video you'll see that I did not use oregano. The reason is because I'm trying to limit the amount of times of going to the grocery store. Typically you'd use oregano, but if you have basil and parsley on hand, don't be afraid to experiment.
Since we're making a sauce to use in this Ribeye Steak Pizzaiola recipe, I figured I'd make a side of pasta. The pasta I used was busiate, but feel free to use whichever pasta you'd like. My second choice would have probably been spaghetti, and third maybe penne. The combination of pasta topped off with cheese, and a juicy tender ribeye steak on the side will leave you feeling happy!
Linked down below is the print recipe, or feel free to follow along with a step by step video. Enjoy!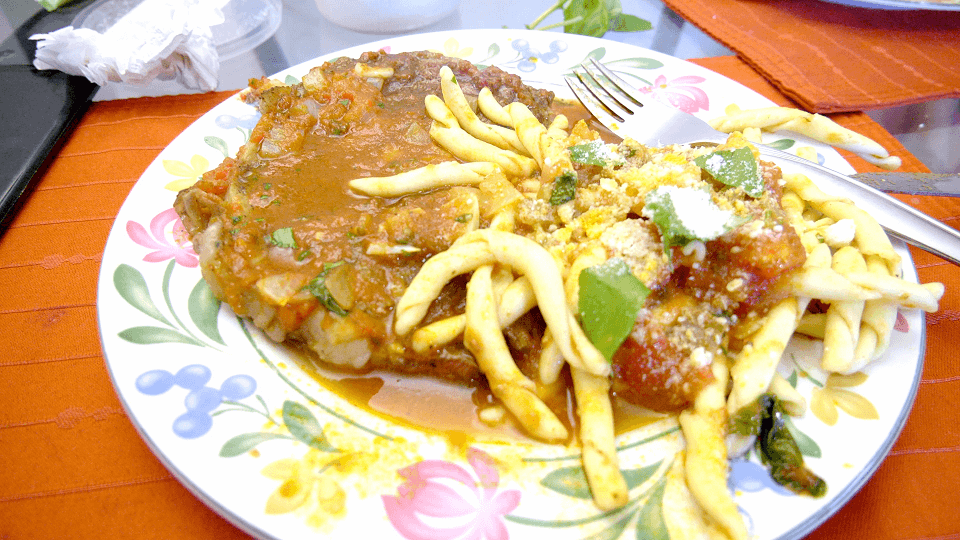 Ribeye Steak Pizzaiola Recipe
A tender and juicy Ribeye Steak Pizzaiola recipe that you will want to make over and over again!
Ingredients
4

tbsp

Olive Oil

2

Ribeye steaks, seasoned with salt and black pepper

any sort of steak is fine

1/4

onion

chopped

5

Garlic cloves

thin slices

1/2

jar

Tomato passata

3

Peeled plum tomatoes

optional, add more passata if you're not using plum tomatoes

1

tsp.

Oregano

Basil, chopped

optional, add as much as you'd like

Parsley, chopped

optional, add as much as you'd like

Salt and Black pepper

to taste

1/2

lb.

Pasta of your preference

optional if you'd like some pasta on the side
Instructions
Let's start off by bringing a big pot of salted water to a boil.

Next, in a medium sized pot add in about 2 tbsp. olive oil and heat on medium. Once warm, add in the onions and garlic, and saute them until they get tender, slight brown is okay. Make sure not to burn them!

Now you can add in the three peeled plum tomatoes, and the half jar of tomato passata. Continue cooking on medium maintaining a simmering boil. With time, the plum tomatoes will cook down, and fall apart into the sauce. You can speed up the process by breaking it up with a wooden spoon. Add in 1/2 tsp. oregano, and mix. Optional step, you can also add in some of the basil and parsley, and save some for use later. Add sea salt and black pepper to taste. Stir occasionally, and maintain a slow simmer.

Now in a frying pan, heat up about 2 tbsp. of olive oil. Once hot, place both steaks in the pan and cook each side on medium for about 1.5 – 2 minutes per side. They will finish up cooking in the sauce later.

After cooking the steaks on both sides, the tomato sauce can be poured over the steaks in the pan. Evenly spread out the sauce over the steaks, ensuring they are completely covered in sauce. Place the heat on low to maintain a slow simmer. You want it to cook very slowly so that it does not overcook and remains tender and juicy at the end. Evenly sprinkle the rest of the oregano over the sauce and steaks. Optional step, add more basil and parsley over the sauce and steaks. Cook the steaks for about 12 minutes.

While the steaks are cooking you can add in the pasta to cook.

Once completed, serve the steak with extra sauce covering the steak. The pasta can also be mixed in the sauce. Optionally you can add cheese over your pasta.
Video
In case you missed it, I also used the La Fede tomato passata in my Sunday Sauce recipe. I'd say if it's good enough for Sunday Sauce, it's good enough for any recipe requiring tomato sauce.