Comfort food, to me, is food that I know tastes really good and will make me feel happy, although I know it isn't something I should eat often. Recently, I found myself wanting to enjoy a comfort food recipe because we had lost power for three days after the tropical storm Isaias, leaving me feeling powerless (pun intended). Since we have an electric stove, we couldn't cook anything while the power was out. We didn't know how much damage the storm had actually caused, so we didn't know the power would be out for more than a couple of hours. We ended up having to toss most of our food out from the fridge, which didn't give us much to work with once the power came back on.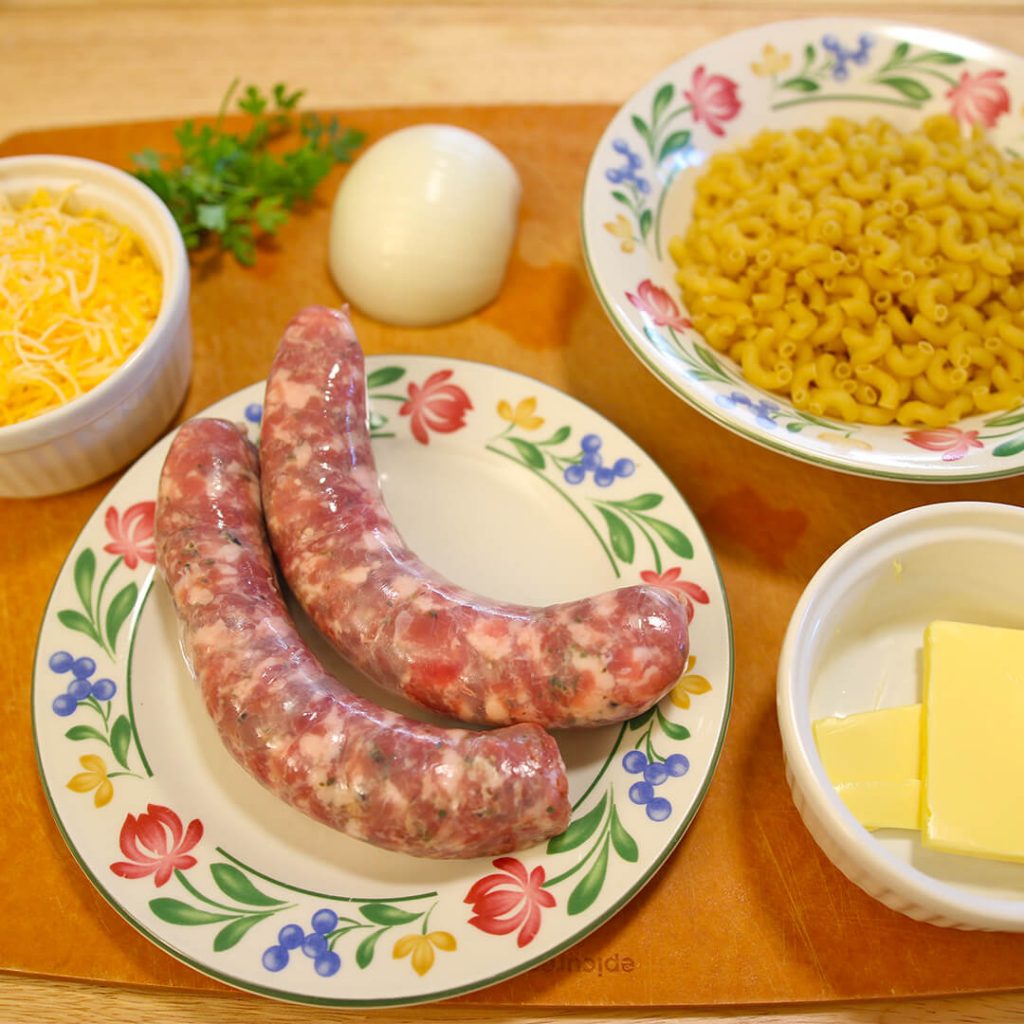 Luckily, my parent's live in a different city, nearby, and only lost power for a couple of hours. Once our power came back on, they gave us some extra cheese, some sausage and some other random ingredients, in case we couldn't get to a food market. Being able to cook again in my kitchen was exciting and I knew I wanted something that would leave my belly feeling warm and satisfied. I thought a nice mac and cheese sounded delicious, so I reached for some elbow pasta and the Mexican-style shredded cheese my parents had given me. The sausages looked really good too so I thought it couldn't hurt to add them into the cheesy pasta. A few spices added in and some pasta water and this cheesy pasta with sausage recipe was created.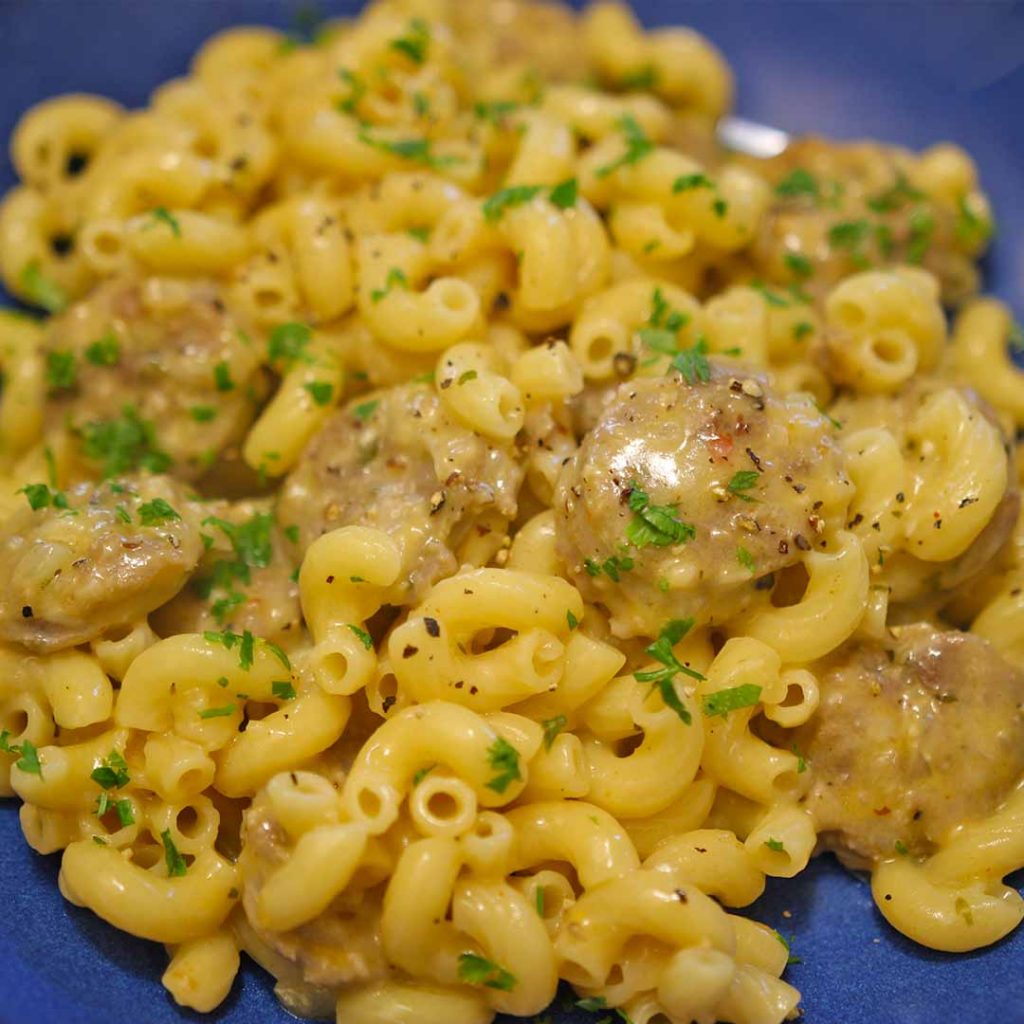 Growing up, I only ate Kraft mac and cheese once and then my dad insisted on making a better version of it, without using powdered cheese. He said that couldn't actually be cheese and that homemade recipes are better for you because you know what ingredients you are adding into your recipes. So every time I would ask for some mac and cheese he would make me his Italian macaroni and cheese using a bechamel sauce. It is delicious! Since I only had the Mexican-style shredded cheese on hand, I gave it a try, and I am so happy I did! This cheesy pasta with sausage recipe will be my amped-up version of mac and cheese from now on. Hope you all enjoy it too!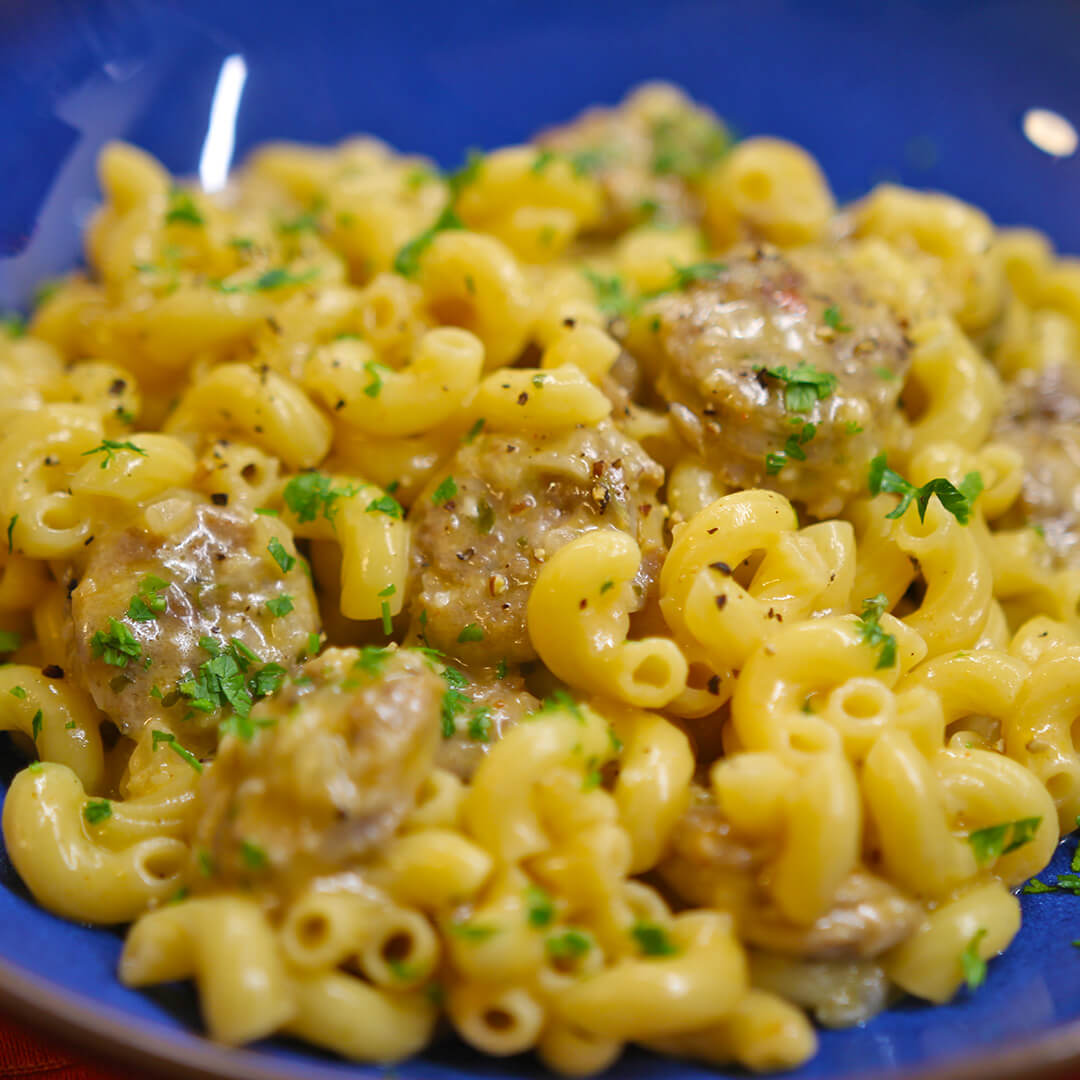 Cheesy Pasta with Sausage
This cheesy pasta with sausage is a different take on the traditional Mac and Cheese.
Ingredients
1 3/4

cups

Elbow Pasta

1

cup

Mexican-Style Cheese

shredded

2

Sausages

sweet or hot

2

Tbsp.

Butter

1/2

Sweet Onion

diced

Parsley

chopped, for topping

Sea Salt

to taste

Black Pepper

to taste

Cayenne Pepper

to taste

Sazonador Total Seasoning

to taste

Italian Herb Seasoning

to taste

Olive Oil

for frying
Instructions
Bring a large pot of salted water to a boil. This will be used later to cook the pasta.

In the meantime, bring a small pot of water to a boil, large enough to fit the sausages. Boil the sausages for five minutes.

Meanwhile, dice your onion and chop the parsley. Set aside.

After boiling for five minutes, remove the sausages from the boiling water and place on a cutting board. Cut the sausages into thin slices.

In a large saute pan, add in one tablespoon of butter and a small drizzle of olive oil. Once the butter has melted, add in the onions and saute for about a minute over medium/high heat.

Add the sausages into the saute pan and saute for about a minute to evenly coat the sausages with the butter, olive oil and onion mix. Add a couple of dashes of the sazonador total seasoning and the Italian herb seasoning and a pinch of sea salt , black pepper and cayenne pepper. Continue to fry for another seven minutes over medium heat.

While the sausages are cooking, add the elbow pasta into the large pot of boiling, salted water and cook until al dente, or two minutes less than the package instructions.

After about a minute of the pasta cooking in the water, add a ladle of the pasta water into the saute pan. After about three minutes, add in another ladle of pasta water. Continue to cook over medium/high heat, making sure not to burn the sausages or onions.

Once the elbow pasta is ready, scoop into the saute pan using a strainer ladle. If you must strain the water, make sure to reserve a cup of the pasta water. Mix the pasta with the sausage.

Add in a tablespoon of butter and mix until melted. Once the butter has melted, add another ladle of pasta water. and mix together over medium heat. Sprinkle in the cheese and mix until fully combined and melted. Pour in a half ladle of the pasta water and continue to mix to allow the cheesy sauce to thicken.

Remove from the stove and serve with a sprinkle of parsley on top and an extra crackle of black pepper.
Video