It's been a while since I've made Fettuccine Alfredo, and because we had an extra chicken breast in the fridge, I thought I'd make an Alfredo sauce with a chicken breast on the side. The creamy sauce goes especially well with fresh made fettuccine, which you should be able to find at the grocery store. I feel the Alfredo sauce coats the fresh fettuccine much better than a dried pasta. If you can't get fresh pasta, dried is perfectly fine, or you could even make your own fettuccine! Maybe I'll do a homemade fettuccine recipe in the future? Let me know if I should do it!
What I love about this fettuccine Alfredo recipe is that it is a light meal, but it's packed with protein. We're doing things a little differently by using milk instead of heavy cream. Which means it has less calories, but it tastes just as good! Don't get me wrong though, this recipe still has a lot of calories, but a cheat meal every now and then is perfectly fine in my book! When it comes to cheese, my go to is always Pecorino Romano. I feel the flavor is very unique, but it may be an acquired taste. It has a much different taste than Parmigiano cheese, but if you've never had it, I would definitely recommend it! Topping off the dish with freshly cracked black pepper, fresh parsley, and your cheese of choice takes this recipe to a whole other level.
Feel free to use the print recipe below, and you can also follow along with the video demonstration. Hope you enjoy the recipe, and give it a try!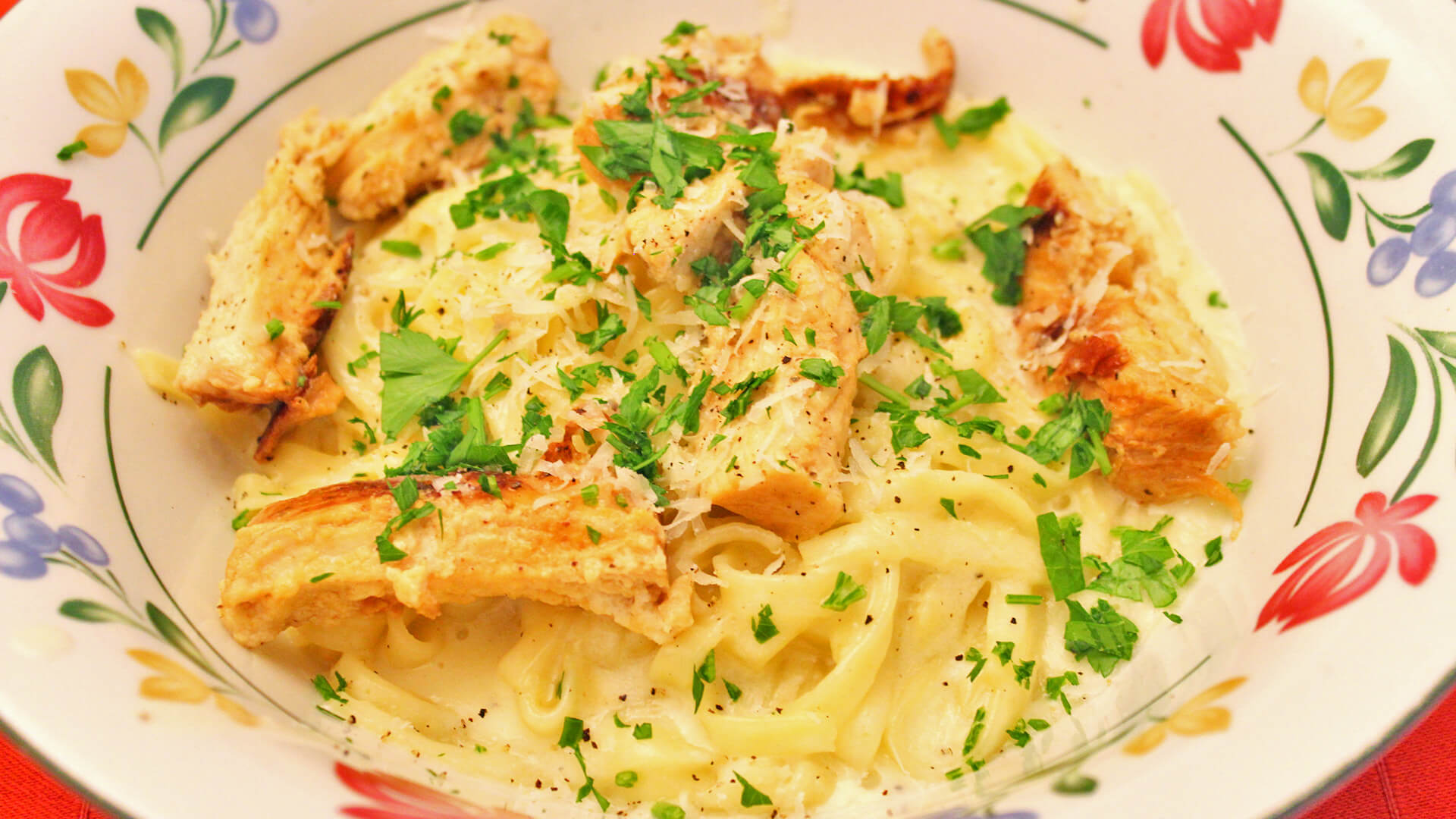 Fettuccine Alfredo with Chicken Breast Recipe
A quick and easy Fettuccine Alfredo recipe that will have you craving a second bowl!
Ingredients
9

oz

Fettuccine pasta

fresh pasta if you can get it, fettuccine is preferred, but other pasta is fine!

1

cup

Parmigiano cheese or Pecorino cheese

1

Stick of butter

1/2

cup

Milk or heavy cream

if using milk it will be a lighter meal vs. heavy cream, heavy cream will result in a thicker sauce

1

Chicken breast

season with salt and black pepper

Handful of chopped parsley

optional

Black pepper

to taste

Olive oil
Instructions
Add a drizzle of olive oil to a pan heated on medium. Thoroughly cook the chicken breast. Timing depends on how thick the chicken breast is. Once the chicken is done cooking, set aside on a cutting board.

Now to make the sauce, in a large pot melt down the stick of butter on medium-low heat. You'll want it to melt slowly. At the same time, add in the 1/2 cup of milk or heavy cream. Ensure that you do not reach a boil, you just want it to get some heat.

Bring a large pot of water to a boil, and make sure to salt the water. I like to use sea salt. Once boiling, add in the pasta and cook as per box instructions.

Once the butter is completely melted, add in the parmigiano cheese or pecorino cheese. Stir to thicken the alfredo sauce. Now add in black pepper, personal preference, add as much as you'd like.

Cut the chicken breast into your desired size, I personally like to cut it into strips.

Once the pasta is done, strain the water, and dump the pasta into the alfredo sauce and mix well. The sauce will thicken more, and coat the pasta.

Serve on a plate, and place desired chicken breast pieces on top. Finish off with more black pepper, parsley, and cheese.
Video
If you enjoyed this recipe, I think you'll also love to try another creamy pasta recipe I did last week. Check out my traditional Pasta Carbonara with Guanciale recipe.